Please note the information regarding the coronavirus pandemic and teaching at JGU in summer semester 2020, available at https://www.studying.uni-mainz.de/corona/.
Important Information Summer Semester 2020
Due to the corona-crises and the JGU operating only in emergency mode all introductory events have been canceled and the summer semester will start virtually on April 20th. Therefore also the InfoDays/ Welcome Week for new arriving exchange students could not take place.
However, we still want to support you in organizing your semester at JGU!
We made a Special Edition of the Practical Guide for the summer semester 2020 (for exchange students starting in the summer semester 2020 and also exchange students already enrolled since the winter semester). It includes all valid and relevant information for the organization of your exchange semester. We try to update this information as soon as possible since they may be subject to changes regularly.
Special Edition Practical Guide Sommersemester 2020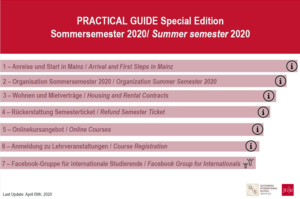 Most of the information given to you in the regular Practical Guide for the summer semester is not valid any more, still you can find the document here (English Version, German version, Campus Map).
If you have further questions, please write to us at any time (gis@international.uni-mainz.de)
Please also join our Facebook-Group "JGU Comes To You - Summer Semester 2020".  Here we would like to digitally facilitate the start of your studies at Johannes Gutenberg-Universität. Unfortunately, due to current events, no physical Welcome Week can take place, but we are still happy to get to know you virtually and to accompany you! This group will serve to inform you and clarify possible questions, but alsogive you the opportunity to network with each other. We are looking forward to all new faces, all conversations andcontributions!  https://www.facebook.com/jguinternationalstudents/
Normally, our university authorities welcome all new international (exchange) students during the Welcome Week. Even if this event has been canceled, our Vice President for Learning and Teaching, Prof. Dr. Stephan Jolie, didn't want to miss out to personally welcome you all at JGU in his video message:
https://video.uni-mainz.de/Panopto/Pages/Viewer.aspx?id=48293024-6704-48a8-9d83-aba4007f0d30.