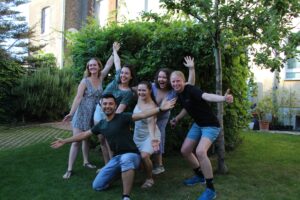 WHO ARE WE?
Most of our Team has had an Erasmus Experience themselves, therefore we are eager to make your stay in Mainz unforgettable.
WHAT DO WE DO?
We organize Trips around Mainz and show you what to do. In addition to that we also explore other cities or go out with you in Mainz.
We usually invite you to our events by social media or post them in our WhatsApp chat for you to share with fellow international students.
STAY UPDATED!
You can always write us an email: erasmuslei@uni-mainz.de
or check out our Instagram @erasmusteam_mainz
---
@all JGU Students
You have already been abroad during your studies but miss the international flair or you are planning to go abroad but still have to be patient?
If you would enjoy volunteering with us, feel free to contact us under: erasmuslei@uni-mainz.de
We look forward to you!